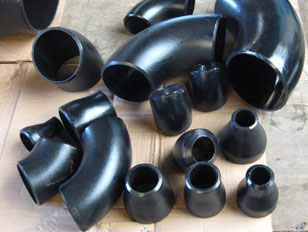 HEBEI Pipeline System is one of the leading manufacturer and supplier of quality 90° Long Radius Elbow in India. We are known as specialist in ANSI/ASME B16.9 90° Long Radius Elbow. The Buttweld 90 Degree Long Radius Elbow manufactured using superior grade raw materials. We have specialization to manufacture customized ANSI/ASME B16.9 90° Long Radius Elbow as per customer's specifications. Most elbows are available in short radius or long radius variants.
Our ANSI/ASME B16.9 90° Long Radius Elbow & Other Fitting products are manufactured using high quality material and go through a rigorous quality check at all stages of production to ensure quality. Designed in compliance with international quality standards, these ANSI/ASME B16.9 90° Long Radius Elbow are corrosion resistance, sturdy and durable. Contact us with your requirements and we assure you to offer products that meets your specific needs and demands, with an unparalleled quality and service.
When the two ends differ in size, the fitting is called a reducing elbow or reducer elbow. An elbow is a pipe fitting installed between two lengths of pipe or tubing to allow a change of direction, usually a 180° or 45° angle, though 90° elbows are also made. The ends may be machined for butt welding (BW) or socketed welding (SW) etc.
Pipeline System CHINA Is One Of The Largest Manufacturer Of ASME / ANSI B16.9 Butt Weld Pipe Elbows in India. ASME / ANSI B16.9 Butt Weld Elbows has excellent resistance to chloride-ion stress-corrosion cracking ( because Of low level of oxidation) , and as well shows appropriate resistance to a number of oxidizing environments. ASME / ANSI B16.9 Butt Weld 45° Short Radius Elbow is very much resistant to chemical corrosion and oxidation (corrosion resistant), and has some high stress-rupture effectiveness and low creep rates under high stresses at temperatures after suitable Heat Treatment.
Carbon Steel Buttweld Reducing / Unequal Elbow
ASTM A234, ASME SA234 WPB , WPBW, WPHY 42, WPHY 46, WPHY 52, WPH 60, WPHY 65 & WPHY 70.
Alloy Steel Buttweld Reducing / Unequal Elbow
ASTM / ASME A/SA 234 Gr. WP 1, WP 5, WP 9, WP 11, WP 12, WP 22, WP 91
Low Temperature Carbon Steel Buttweld Reducing / Unequal Elbow
ASTM A420 WPL3, A420 WPL6
The 90 Degree Long Radius Elbows are used for connecting pipes of different diameters and find wide applications in various fields such as chemical, construction, Power Plant, Cement, Paper, Oil & Gas, Sugar, Petrochemical, Refineries, Fertilizers, Nuclear Power, Breweries, Shipbuilding, Steel Plant, Railway, Ports, Mining, Defence, Offshore, Government Organisation, etc.
Our ASME / ANSI B16.9 Butt Weld 90° Long Radius Elbows (90 Degree Elbow, 45 Degree Elbow, 180 Degree Elbow, Long Radius Elbow, Short Radius Elbow) are accessible to our valuable customers in different range of diameters (d), wall thicknesses (w) and sizes (nom. Pipe Size) in customized form (as per customer requirment or order requirment) and also at quite affordable rates (Best Price In China).
Buttweld CARBON STEEL ELBOW Specifications:
Standards : ANSI – B 16.9, ASTM A403 – ASME SA403 – 'Standard Specification for CARBON Steel Piping Fittings', API 590-605, ASME B16.9 – 'Factory-Made Butt welding Fittings", ASME B16.25 – 'Buttwelding Ends', ASME B16.28 – 'Wrought Steel Buttwelding Short Radius Elbows and Returns', MSS SP-43 – 'Wrought and Fabricated Butt-Welding Fittings for Low Pressure, Corrosion Resistant Applications'
Schedule : Sch 5 TO Sch XXS.
Sizes : 1/2″NB TO 48″NB IN / 1/2" TO 36", (SEAMLESS UPTO 24"), (WELDED 8" TO 36" )
Materials : Carbon Steel,Stainless Steel, Alloy Steel,
Type : Butt Weld (BW) – steel elbow
Thickness : Schedule 5S, 10S, 20S, S10, S20, S30, STD, 40S, S40, S60, XS, 80S, S80, S100, S120, S140, S160, XXS and etc.
Dimension : ANSI B16.9, ANSI B16.28, MSS-SP-43 Type A, MSS-SP-43 Type B, JIS B2312, JIS B2313
Type of Buttweld Carbon steel Pipe Elbow Fittings
Carbon steel Elbows – Long Radius
Carbon steel 45 deg Elbow
Carbon steel Elbows – Short Radius
Carbon steel 90 deg Elbow
Carbon steel Reducing Elbows
Carbon steel Reducing Elbow
Carbon steel 45° Elbows
Carbon steel 180° LR Return Bends
 
 
CARBON STEEL ELBOW PRICE TAG:
90 Degree Carbon Steel Seamless/Welded Elbow
Find Similar Products By Category
90degree Lr Butt Welded Seamless Carbon Steel Elbow
FOB Price: US $1 / Piece
Min. Order: 1 Piece
Butt Welded Sch40 Carbon Steel Seamless Tee
FOB Price: US $1 / Piece
Min. Order: 1 Piece
70″ A234 Wpb Carbon Steel Ellipsoidal Head End Cap
FOB Price: US $1 / Piece
Min. Order: 1 Piece
Sch40 Seamless 45degree Carbon Steel Elbow
FOB Price: US $1 / Piece
Min. Order: 1 Piece
A234 Wpb Bw Carbon Steel Seamless Pipe Equal Tee
FOB Price: US $1 / Piece
Min. Order: 1 Piece
45 Degree Carbon Steel Long Radius Seamless Elbow
FOB Price: US $1 / Piece
Min. Order: 1 Piece
90d R=1.5D Carbon Steel Seamless Elbows
90d R=1.5D Carbon Steel Seamless Elbows
FOB Price: US $1 / Piece
Min. Order: 1 Piece
ANSI API 5L Gr B Pipe Fittings Carbon Steel Elbow
FOB Price: US $1 / Piece
Min. Order: 1 Piece
ANSI CS A420wpl6 Pipe Fittings Seamless 90 Degree Elbow
FOB Price: US $1 / Piece
Min. Order: 1 Piece
ASTM Built Welding Carbon Steel A234wpb Pipe Fittings Elbow
FOB Price: US $0.18-155 / KG
Min. Order: 1 KG
A234 Wpb Seamless Carbon Steel Pipe Butt Welding Elbow
FOB Price: US $1 / Piece
Min. Order: 1 Piece
Lr 45degree Carbon Steel Seamless Pipe Elbow
FOB Price: US $1 / Piece
Min. Order: 1 Piece
Carbon Steel X52 Pipe Fittings Pure Seamless Steel Elbows
FOB Price: US $0.68-215 / Piece
Min. Order: 1 Piece
Asme Long Radius 90degree Carbon Steel Butt Welded Elbow
FOB Price: US $1 / Piece
Min. Order: 1 Piece
Butt Welded Lr 90degree Bigger Size Mild Steel Elbow
FOB Price: US $1 / Piece
Min. Order: 1 Piece
Lr Butt Welded Seamless 90degree Carbon Steel Elbow
FOB Price: US $1 / Piece
Min. Order: 1 Piece
Contact Now
ASME  B16.9 CARBON STEEL BUTT WELD ELBOWS DIMENSIONS :
---
ASME  B16.9 CARBON STEEL BUTT WELD ELBOWS SIZE CHART :
Carbon Steel Pipe Fitting 36″ 50mm Welded A234wpb Big Elbow
90d 48″ Elbow Pipe Fitting Two Half CS A234wpb Elbow
48 Inch Xs X65 Two Half Carbon Steel Welded Elbow
Big Size A516 Gr70 Welding Carbon Steel Pipe Elbow
66 Inch A516 Gr70 Steel Welding Elbow with 10mm Wt
90 Degree Carbon Steel Pipe Long Elbow
90 Degree Carbon Steel Pipe Long Elbow
Steel 20 Carbon Steel Pipe Fitting Seamless GOST 17375 Elbow